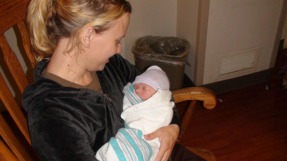 "Birth is not only about making babies.
Birth is about making mothers: strong,
competent, capable mothers who trust themselves and know their inner strength."
-Barbara Katz-Rothman
.
.
.Birth Doula Investment    $550*
The initial $250 is due at the signing of the contract.  The remainder is due by the 37th week of your pregnancy.  Payment plans and barter for payment may be available on an as-needed basis.
Discounts:
$20 discount to clients who can place my flyers/postcards in their care providers' office (Pediatrician, Chiropractor, Midwife, or Obstetrician). Care provider must agree to a stack of cards placed and must not already have my flyers present.

Birth Doula Package Includes
.

A free interview in Lindale, TX to all potential clients to see if we are a good match
Access to my library for lending books
2 prenatal appointments (typically at your house or wherever you feel most comfortable- within 40 miles of Lindale, TX). These meetings are for us to get to know each other before your birth! During these prenatal visits we may talk about your birth wishes, work on developing your birth plan, talk about or practice comfort measures, review stages and signs of labor, and discuss options you may have and potential challenges you may face.
24/7 On-Call two weeks before your EDD (Estimated Due Date) until the birth
Aid in writing a birth plan
Around the clock labor and birth support once active labor has begun (or whenever you feel you need me!) until up to 2 hours after the birth
Help in establishing breastfeeding postpartum (while at hospital, up to 2 hours after the birth)
1 postpartum visit (in your home or hospital usually within 7 days of the birth-within 40 miles of Lindale, TX unless previously arranged)
Unlimited questions and concerns answered by email and phone

.



*All Prices are subject to change without notice. The price at the time of your contract-signing is the one that will be honored. Thank you!
*Within the cities of Lindale, Tyler, Van, Garden Valley, and Mineola. I am also willing to travel outside these areas for a mileage/gas fee.
I can be found through: doulanetwork.com and doulamatch.net